Facebook shares trace boys' memorial balloon 60 miles away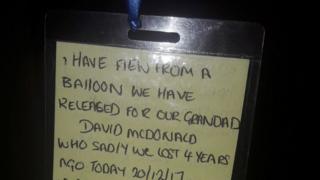 A balloon released by a boy, 3, to mark his grandfather's death has been traced to a field 60 miles away after its discovery went viral on social media.
David James and his brothers each let off a helium balloon in Basford, Nottingham, in December to mark the passing of David McDonald.
But it was David's balloon that was found in West Walton, Norfolk - on the anniversary of Mr McDonald's funeral.
He got it back after a picture of it was shared more than 1,400 times.
Their mother Emma, 29, said: "It got shared around, then a couple of my friends shared it and tagged me. We were all so gobsmacked and emotional.
"The thing that made it more emotional was that we released the balloons on the anniversary of my dad's death but then the balloons were found on the anniversary of my dad's funeral."
Mr McDonald passed away at the age of 63 in December 2013, following a short battle with lung cancer.
In the past, the family has set off fireworks and visited favourite childhood locations to mark the anniversary of his death.
This year, her four sons, aged between three and 12, released the blue balloons from a memorial patch in their grandmother's garden.
One balloon was discovered 19 days later by Malcolm Bruce in the village of West Walton on 8 January and then shared to Ms James' timeline two days later.
"My dad would have been so chuffed if he knew. In my eyes it's like a sign from him that he is watching over us," Ms James added.
"He is so proud of his grandsons and was pleased that we named my son David after him.
"I think it's funny that it was David's balloon that was found."