Pte Sean Benton sister awaits answers over Deepcut death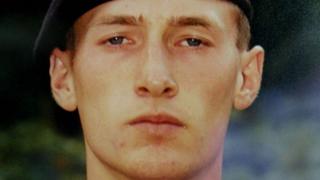 The sister of a young army recruit who died at Deepcut barracks hopes a fresh inquest will bring answers about what happened at the army base.
Tracy Lewis was speaking before the start of an inquest into the death of Pte Sean Benton that will hear from about 150 witnesses over two months.
She said she wanted the truth, but her brother's death would never leave her.
Pte Benton, of Hastings, was the first of four recruits to die at the Surrey barracks between 1995 and 2002.
He had five bullet wounds to his chest.
Coroner Judge Peter Rook QC has said the inquest, which starts on Wednesday, will examine whether the soldier was bullied and harassed at the army base, but will not look into claims of sexual misconduct.
Ms Lewis said: "I want to know why, why they let the things happen that happened. And I want answers. So yes, I want the truth."
But she added: "Now, hopefully, we'll get closure, not that it will be the end, because it's never going to be the end is it?
"Because it's always going to be with me, regardless."
Bullying claims
The first inquest, which recorded a verdict of suicide, came a month after the 20-year-old's death in June 1995.
It followed an investigation by military police, lasted two hours and heard from six witnesses.
A second inquest was ordered after a campaign by the family for a full investigation amid allegations he suffered prolonged physical and psychological bullying.
Liberty lawyer Emma Norton, representing the family, said the inquest would be the first time there had been "a proper process".
She said: "It's going to be in public. People are going to be cross-examined. And most crucially, the family are at the heart of it."
An Army spokesman said: "Our thoughts are with the family and friends of Pte Sean Benton at this difficult time.
"The Ministry of Defence will support and assist the coroner as appropriate."