South East Water: Supplies lost as frozen pipes thaw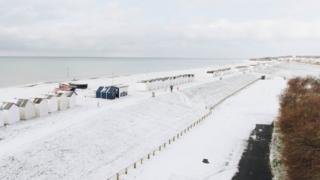 About 6,000 households in Sussex are without water due to frozen pipes bursting as they thaw.
The problem spans South East Water's network but mostly affects properties in the Rotherfield, Wadhurst and Mark Cross areas, the company said.
It has apologised to customers across Kent, Sussex, Surrey, Hampshire and Berkshire who have low pressure or no supply at all.
It said it was not possible to say when supplies would be back to normal.
Supply problems began on Saturday as snow and ice brought in by the so-called Beast from the East and Storm Emma started to thaw, affecting frozen pipes.
Head of operations Steve Andrews said they were faced with "unprecedented demand" and dealing with multiple leaks in cities, towns and villages.
"We are trying to locate what we believe to be a very large number of very small bursts right across our network."
Those with little or no water include properties in the postcode areas of TN3, TN5, TN6, RH15, RH16, RH17, TN20, TN22, ME16 and ME17.
"We were prepared for the poor weather when it swept in and have also been planning for the thaw and the bursts we knew it would inevitably cause," Mr Andrews said.
"While it is impossible to predict which pipes will burst and where, we have had crews on standby 24 hours a day."
He said bottled water was being handed out but the supplier was under pressure and the company was doing all it could to deliver supplies.
Customers are being urged to check their own properties for leaks and get them repaired.