Kent and East Sussex homes remain without water after pipes thaw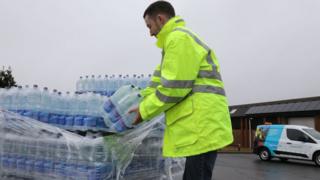 Up to 2,100 households remain without water across Kent and East Sussex after thawing pipes burst.
Thousands more properties have been warned their supply could be intermittent over the next few days.
South East Water said it hoped about 2,000 homes, mostly in the Crowborough and Rotherfield area, would have their supplies back by Wednesday morning.
Southern Water said its teams were working through the night to reconnect 77 households still without water.
Both companies have asked customers to report any leaks.
At its peak more, than 25,000 properties were affected, with many having been without fresh water for four days.
The government has announced an urgent review into the way water companies have handled the freezing winter weather.
Environment minister Therese Coffey said regulator Ofwat would be encouraged to take action "to ensure water companies up their game".
She said the review would consider whether statutory compensation should be paid.
Homes were cut off in Crawley's RH10 and RH11 postcodes on Monday in order to repair pipes so water supplies could be restored.
Southern Water said supplies were returning to homes in the town.
Michael Burns, who lives in Crowborough, said he had not had any water supply since 06:00 on Saturday.
He said there was one local water station where he could collect six litres for a family of five on Monday.
South East Water said supplies had been restored to part of Crowborough, and it was working to reconnect the rest of the town.
The company has opened reservoirs and is pumping water into the network which supplies about 8,700 homes in Mayfield, Bolnore Village, Cuckfield, Rotherfield and Wadhurst. Supplies to Charing have also been restored.
Douglas Whitfield, head of production at South East Water, said: "It was the extent of the cold and the speed of the thaw that meant that this outbreak was fairly unprecedented.
"This was much more severe than we expected.
"Once we have got all the supplies back on we will be in contact with our customers about compensation."