Deepcut recruit Sean Benton 'assaulted and bullied'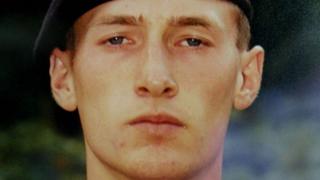 An ex-soldier at Deepcut barracks saw a private who was later found dead being assaulted and bullied, an inquest has heard.
Amanda Maxted-Blain said it seemed to her instructors were trying to break Pte Sean Benton at the Surrey barracks.
In a statement from 2003, read at the hearing, she said he "would have made a good soldier, and a very good one".
Pte Benton, 20, was the first of four recruits to die from gun wounds at the barracks, between 1995 and 2002.
He was found with five bullet wounds to his chest in June 1995, shortly after he had been told he was to be discharged from the army.
Ms Maxted-Blain also recalled Pte Benton, who was from Hastings in East Sussex, being punched, lying helpless on the ground, facing verbal abuse and being "humiliated", her statement showed.
In one excerpt read out at Woking Coroner's Court, she said Pte Benton was punched in the stomach by Cpl Martin Holder, falling to the ground.
She alleged he was "doubled up in pain", but Cpl Holder was "kicking him in the back kidney area two or three times".
Pte Benton was being shouted at to get up, the hearing was told.
She described Pte Benton as holding back tears and his face was bright red as he got up and joined the parade of soldiers.
In her statement she also said Pte Benton was called a "waste of rations, oxygen thief" but told the inquest everyone might be called that in the army at some point.
Ms Maxted-Blain also recalled an alleged parade incident soon after she arrived at Deepcut in May 1995, where she saw Pte Benton being bullied and shouted at by Sgt Andrew Gavaghan.
There were possibly about 150 soldiers standing by, she suggested.
The inquest, which is taking place without a jury, continues.
---
The Deepcut Four
20-year-old Pte Sean Benton, from Hastings, was the first to be found dead in June 1995

18-year-old Pte Cheryl James, from Llangollen was found with a bullet wound to her forehead in November 1995

17-year-old Pte Geoff Gray, from Seaham, was found with two gunshot wounds to his head in 2001

17-year-old Pte James Collinson, from Perth, was found with a single gunshot wound through his chin while on guard duty in 2002