Worcestershire grandfather completes his bid to run every continent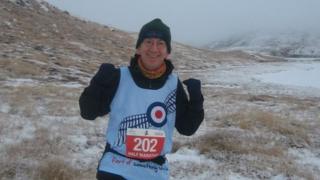 A grandfather has completed a half marathon in Antarctica, the seventh continent he has run on.
Doug Richards, from Redditch, Worcestershire, who will be 70 this year, took on the 13.2m (21km) run on Friday in temperatures of -3C.
He said it was "brutal but scenic" with the weather throwing everything at him.
He has raised more than £40,000 for the Midlands Air Ambulance charity whilst completing some tough challenges including the Marathon de Sables.
The grandfather began running in his 40s and set himself a target to run on every continent.
His son, Chris Richards, said his father decided to run his final continent ahead of his 70th birthday on 29 May.
He previously wrote a book about his experiences called 'Running Hot and Cold'.
Last year he ran a half marathon in the Australian outback, has previously run in Greenland, and has also completed the Marathon de Sables, which covers 250km (156 miles) in the Sahara Desert.
His son, who lives in Telford, Shropshire, said his family are "very proud".
He added: "He didn't start running until late in life but dragged himself out for his first run over a mile, which nearly killed him.
"Then he started enjoying it and set himself a goal to run at least a half marathon on every continent.
He added: "Communication with him over the last few days has been limited because he has been on the boat crossing to Antarctica.
"To be honest he was more worried about the crossing than he was about the race because it is renowned for having some of the roughest seas in the world."
In October, Mr Richards and his son will take on the Venice Marathon together.