Sean Benton inquest: Deepcut instructor 'a psychopath'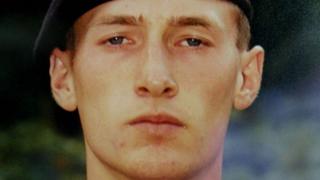 A "psychopathic" Army instructor kicked a woman recruit in the back during a parade at Surrey's Deepcut barracks, an inquest has heard.
Pte Theresa Sanderson was giving evidence at a hearing into the death of Pte Sean Benton who was found with gunshot wounds at Deepcut in 1995.
She said Sgt Andrew Gavaghan was called a "psychopath" by recruits.
But former troop commander Sarah Delap said he was "a firm troop sergeant" who did not scream, shout or lose control.
Describing the kicking incident, Ms Sanderson, who joined the Army in 1996, said she had been wearing a Sheffield Wednesday football shirt.
'No nice memories'
"He physically kicked me in the back. I would not consider that as banter. Since he kicked me I had pain in my back," she said.
"He made reference to the team, that he did not appreciate me wearing it. It made me drop to my knees."
Recruits were sometimes allowed to wear civilian shirts during parades, she said.
Ms Sanderson, who was at the barracks after Pte Benton's death, said Sgt Gavaghan would "attack, spit or abuse a junior soldiers" on a daily basis.
The inquest heard claims some people got on with and respected him, but she said: "All I have got is horrible nasty images and the face of a vile man, somebody I would want nothing to do with.
"There are no nice memories."
Ms Delap, who was a troop commander at Deepcut for two years, recalled feeling "woefully underprepared", because there were not enough permanent staff to deal with the number of soldiers and she was inexperienced and lacked confidence.
She said she did not hear of any assaults, harassment or bullying of soldiers by non-commissioned officers (NCOs), which she said would have been "unacceptable" and something she would have acted on.
Pte Benton, of Hastings, Sussex, the first of four soldiers to die of gunshot wounds at the barracks between 1995 and 1992, was found with five bullets in his chest.
A first hearing gave a suicide verdict, but his family campaigned for a fresh investigation amid claims he suffered prolonged bullying.
---
The Deepcut Four
20-year-old Pte Sean Benton, from Hastings, was the first to be found dead in June 1995

18-year-old Pte Cheryl James, from Llangollen was found with a bullet wound to her forehead in November 1995

17-year-old Pte Geoff Gray, from Seaham, was found with two gunshot wounds to his head in 2001

17-year-old Pte James Collinson, from Perth, was found with a single gunshot wound through his chin while on guard duty in 2002