Thames Valley and Hampshire police forces to cut dog unit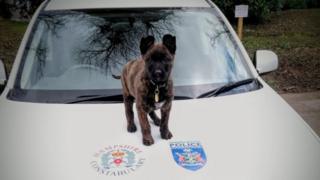 A number of police dogs and officers in a joint unit between forces will be cut to make savings, the BBC can reveal.
Thames Valley Police confirmed its dog section with Hampshire Constabulary, made up of 60 officers who each have a minimum of one dog, would be reduced.
Chief Constable Francis Habgood said he had a "preference" the department would reduce numbers through retirements and resignations.
The unit cuts have been described as "devastating" by a force federation.
The two forces are "consulting dog section staff, stakeholders and staff associations" to re-model the unit, a Thames Valley Police spokesman confirmed.
He added: "As the new model has not yet been agreed we are not in a position to confirm any associated savings."
The force told the BBC the decision to cut the unit had been made in December 2017, despite Thames Valley chiefs saying no decisions over the future of its mounted and dog sections had been made at its annual budget meeting in January.
Thames Valley Police did not respond to the BBC's request for comment on the differences in dates.
The dog unit is made up of six sergeants and 54 constables, all of whom are expected to have and look after at least one general purpose dog.
Some officers will have a second dog with specialist capabilities, such as explosive search, victim recovery and specialist search skills.
'No promises'
When a dog handler retires their dog can be passed to another handler, transferred to another force or retired.
PC Craig O'Leary, chairman of Thames Valley Police Federation, which represents police officers up to the rank of chief inspector, said the "knock-on effect" of cutting such a service would not be found out until it was gone.
However, he added: "If you don't cut from the dogs section you've still got to find those savings from somewhere."
The force has made "no promises" about the future cuts to its mounted section.
A budget of £405m for Thames Valley Police was approved in January amid further cuts of £14.3m until 2020/21.