Jailed fraud MEP Peter Skinner told to pay back money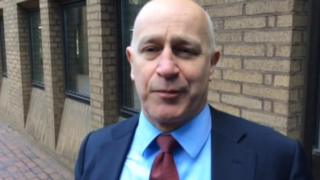 An MEP who was jailed for dishonestly claiming about £100,000 in expenses has been ordered to pay money back or face more time in prison.
Peter Skinner, 58, who was Labour MEP for the South East from 1999 to 2014, was jailed for four years after a trial at Southwark Crown Court in 2016.
A judge at the same court told Skinner he must pay back £85,436.96 or face a further year behind bars.
Skinner has also been told to pay £50,000 in prosecution costs.
'Abused expenses system'
He claimed thousands of pounds for support staff, which actually funded jewellery, restaurants and hotel stays, prosecutors said.
Skinner also made fraudulent payments of £10,000 a month to his wife from December 2007 until July 2009, his trial was told.
The court heard how he created a fake letter, claiming his father was working for him, to justify his payments of £5,000 every three months.
In total Skinner, from Snodland in Kent, claimed £480,000 in expenses, about £100,000 of which was fraudulent.
Nick Price, from the Crown Prosecution Service, said the MEP "abused the expenses system... in order to enrich himself".