Bodies of mother and daughter found in house fire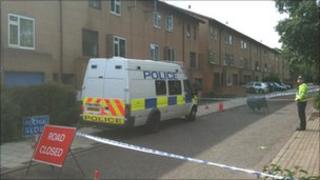 The remains of a mother and her three-year-old daughter have been found by firefighters investigating a house fire in Milton Keynes.
Crews had rescued one woman from the multiple-occupancy house in Fishermead Boulevard early on Sunday.
Floors and ceilings collapsed before a search was completed, the fire service said.
The bodies of Bola Ejifunmilayo, 29, and her daughter Fiyin were discovered at about 1300 BST on Monday.
One firefighter was injured trying to enter the bedroom in which the remains of Ms Ejifunmilayo and Fiyin, both from Nigeria, were later found.
He fell to the level below when a floor collapsed and was taken to hospital. He was treated for arm and shoulder injuries and has been discharged.
Thames Valley Police are investigating the cause of the fire, which they are treating as unexplained.
'Severe and dangerous'
Supt Simon Eatwell said: "Our priority at this stage is to ensure that a thorough and proper investigation takes place to determine how this fire started and if any criminal offence has taken place.
"I would stress that at this stage, the fire is being treated as unexplained.
"Two people have tragically died in this fire and we owe it to them and their family to do everything we can to find out what happened."
More than 30 firefighters tackled what the fire service described as a "very severe and dangerous" blaze.
Assistant chief fire officer Des Williamson said: "Firefighters searched in the most difficult conditions imaginable.
Buckinghamshire Fire and Rescue Service is examining fire safety precautions at the house and the cause of the firefighter's injury.