Sand memories a first at Bedfordshire archive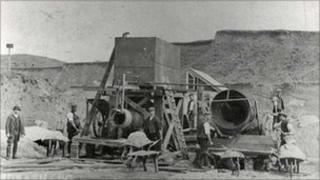 An archive believed to be the first record office in England has taken its first completely digital collection.
The Bedfordshire and Luton Archives Service, which opened in 1913, stores documents relating to 800 years of the county's history.
One of its latest additions, the Sands of Time, is an oral history of the sand industry in Leighton Buzzard.
Bedford Borough Council, which houses the service at its headquarters, said the record is a "virtual museum".
It includes digital photographs of workers in the town and surrounding parishes, and those in the related tile and brick works. There are also voice recordings of their memories of the industry.
Sand has been quarried in the area for more than 150 years and is used around the world as well as locally, the council added.
The collection was created by the Greensand Trust, an independent environmental charity.
The archive service was established as the Bedfordshire Record Office by historian and retired zoology professor George Herbert Fowler, who had been elected as a county councillor in Bedfordshire in 1912.
He remained in office until his death in 1940.