Husband stabbed wife to death, court told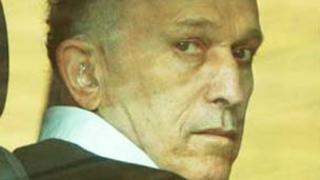 A teenager has told a court how she watched her father stab her mother to death at their Hertfordshire home.
Ria Jumaily, 18, called 999 before taking the knife from her father and locking him in a room of the house, Luton Crown Court heard.
Retired GP Amad Jumaily, 60, is accused of murdering his wife June, 46, after she left him and began a relationship with another man.
Dr Jumaily denies murder on grounds of diminished responsibility.
The court heard Mrs Jumaily returned to the family home in Field Road, Letchworth, last December to talk to her husband about how to divide their belongings.
'Repeatedly stabbed'
Prosecutor Michael Speak said: "Ria was upstairs and heard shouting.
"She went downstairs and found her father was attacking her mother in the kitchen.
"He was stabbing her repeatedly with a fairly large kitchen knife over and over and over again.
"Ria tried to stop him by shouting at her father and by physically attempting to get the knife from him.
"She got through to the operator and her mother was still being stabbed before her very eyes."
A post-mortem examination found Mrs Jumaily had been stabbed 20 times.
Mr Speak told the jury that Dr Jumaily was arrested and on his way to the police station said: "Why did you sleep around? Why did you sleep with the neighbour? I still love you."
The case continues.