Bedfordshire force cuts 60 officers under £19m plan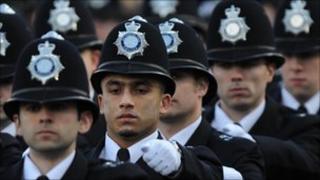 Bedfordshire Police has announced it will lose 60 officers by merging more of its operations with neighbouring forces to save £19m.
The force already saves £3m a year by sharing some teams with Hertfordshire.
Both will now share personnel with Cambridgeshire in areas such as roads policing and serious and organised crime.
Bedfordshire Chief Constable Alf Hitchcock said none of the redundancies would be from neighbourhood teams.
Speaking about the 20% cuts his force is facing, Mr Hitchcock said: "We can offset those losses by reorganising the way we do policing and particularly things like working with other forces.
"We've got some work with Hertfordshire and Cambridgeshire and that means we're not going to take those [resources] from the local neighbourhood policing teams."
Mr Hitchcock who began as Bedfordshire Chief Constable two weeks ago, ruled out any possibility of a full merger between police forces saying: "We are Bedfordshire police and we are proud of it. There is no merger with these other forces."
Bedfordshire Police said it has also saved more than £1m by limiting the amount of overtime payments that are made.
A meeting of the police authority later this month will hear the force is aiming to cap overtime payments to a total of £2.75m in 2010/11.