Stevenage killer's girlfriend jailed for lies to police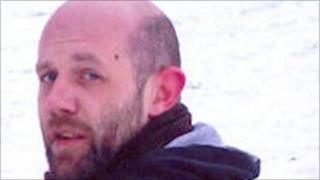 A 34-year-old woman has been jailed for 15 months for sending detectives on a "wild goose chase" after her boyfriend stabbed his friend in Hertfordshire.
Mark Butler, 32, of Burydale, Stevenage, suffered fatal knife wounds at a house in Bowcock Walk in July.
Dwayne Parchment, 29, of Bowcock Walk, was jailed for life on Monday.
Zoe McGonnell, of Gonville Crescent, admitted perverting the course of justice. The judge said her lies had sent police on a "wild goose chase".
The prosecution said she arrived at the house in Bowcock Walk on 13 July to find Mr Butler dying and her partner fleeing the house.
She then told police a series of lies for 36 hours after Mr Butler died, the court heard.
'Complete fantasy'
She invented someone by the name of Alex, who she claimed was at the house in the hours before Mr Butler's death, and said Parchment was missing when she got home.
She was then arrested on suspicion of being concerned in the murder.
Prosecutor Isabel Delamere said: "After legal advice she made two statements in which she admitted the whole thing about Alex was a complete fantasy.
"She said she did not want to waste police any more valuable time but that she had panicked at the time and was scared for the father of her child."
Andrew Corcut, defending, said: "She came home to an appalling and awful situation and was shocked by the fact her partner was responsible.
"She made sure the emergency services were called and did her best to administer first aid."
Judge Richard Foster told Miss McGonnell: "Knowing as you did that Mark Butler was either dead or dying you sent the police on a wild goose chase and made up this fictitious person, Alex.
"It might have been a knee jerk reaction to protect your partner, but I am afraid to say I see no alternative but to impose an immediate custodial sentence."