Bedford tobacconist reacts to ban on cigarette displays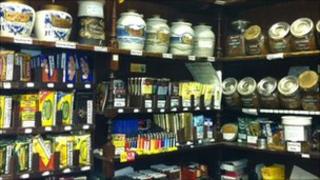 One of Bedford's oldest shops has said the proposed ban on tobacco displays in shops is likely to change the whole personality of their establishment.
As part of a series of measures to discourage smoking, ministers have announced that cigarettes and other products will have to be kept under the counter from 2012 for large stores and 2015 for smaller shops.
A consultation is also to be launched on whether cigarettes should only be sold in plain packets.
Harrison and Simmonds tobacconists has been on Bedford High Street since 1928 and is run by cousins James and Dominic Simmonds.
They fear this latest announcement will have an adverse impact on their trade.
"We are just getting over how ridiculous it all is really," said Dominic Simmonds.
"I suppose we will have to hide [the stock], put a blind down over the whole lot, or put it under the counter or out the back, but the whole character of the shop will be destroyed.
"You just have to see all the packets on the shelves, there's something a bit magical about it and there's all this history [here]. I guess we will just have to carry on but with everything covered up.
"It will make our life a lot more difficult if we can't show people the product. It's just not practical for us," he said.
They hope that once more details emerge, there may be a way they can keep some of what makes the shop so special, but until then they are resigned to the fact changes must be made.
"It's a shame but there's no point worrying about it, we will have to wait and see if we can get round it but still be within the law," Mr Simmons added.
"We are going to see what we actually have to do and if we can still get away with having the jars of tobacco then we will. Plus there maybe different laws for tobacconists."
The pair have already taken steps to combat changes in how they can sell their product as things have moved on a long way from when their grandfather first opened the shop.
"I think we're being pushed out of the market place and so we have had to diversify," said James Simmonds.
"It feels as though they just want to take [tobacco] completely out of society.
"We've tried to become more of a gentleman's shop so we have Swiss Army knives, pocket watches and nice pens so hopefully, fingers crossed, touch wood we'll still be here in another 80 years time."
Not everybody thinks the government's new tobacco control strategy is a bad thing.
Rosemary Gillespie is the chief executive of the Roy Castle Lung Foundation. She is "absolutely delighted" with the announcement to end the open display of cigarettes.
"The removal of cigarette displays from shops and supermarkets and the move towards plain packaging for cigarettes proves, I think, that the government is serious about public health and we welcome it, particularly because of the impact it will have on children and young people taking up smoking," she said.