Jail for 'butcher' knife attack in Hoddesdon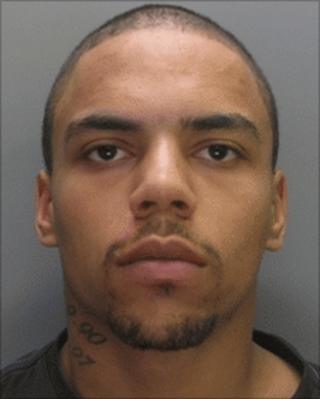 A man who slashed his ex-girlfriend's face like a "butcher cutting open a carcass" has been given an indeterminate prison sentence.
Shyan Myrie, 21, of no fixed address, throttled Sansel Isirgan, 18, until she passed out then maimed her with a knife, St Albans Crown Court heard.
He admitted wounding with intent and making threats to kill in Hoddesdon, Hertfordshire, on 30 May last year.
He must serve at least six years before he can be considered for parole.
Myrie had wrongly believed Ms Isirgan had slept with another man and attacked her when she visited him at his flat.
Prosecutor Edward Lewis said Myrie had become "jealous and controlling" during the couple's year-long relationship which had ended two weeks previously.
'Pretty face cut'
Once inside the flat, Myrie punched her repeatedly in the head and face causing her to fall to the floor, Mr Lewis added.
"He stamped on her. He took a large carving knife blade and dug her back and legs with it."
He throttled her until she became unconscious and "cut open her cheek in the manner of a butcher cutting open a carcass", said Mr Lewis.
"As she came round the defendant was standing over her and said 'Ashamed. Your pretty face is cut now'."
The court heard Myrie told her to leave and followed her onto the High Street where he made a threat to kill her but she found a group of people and emergency services were called.
Ms Isirgan was treated for a five inch (12.7cm) slash, which ran from her ear almost to her mouth. The wound has left a permanent scar, the court heard.
The teenager also suffered bruising to her neck, a fractured wrist and puncture wounds to her legs.
The court heard Myrie "went to ground" after the attack but gave himself up on 14 July last year.
He had previous convictions for wounding, violent disorder and possessing knives, the court was told.
Defence barrister Henry Vallance said: "He asks for neither compassion or leniency.
"He knows he deserves neither."
Judge Stephen Gullick passed an indeterminate sentence for public protection, describing the wounding as "about as bad as it gets".