Crash victim's daughter tells court: 'I miss Daddy'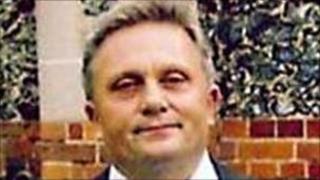 A statement from a nine-year-old girl, whose father was killed as he cycled to work, has been read to a court.
Zara Brace-Day, whose father, John, 54, died when he was hit by a lorry on the A414 in Hertfordshire, said: "I miss my daddy reading me bedtime stories."
Mr Brace-Day died from multiple fractures at the scene of the crash.
Paul Winfield, 36, of Lothair Road, Stopsley, Luton, admitted causing death by careless driving and was jailed for 24 weeks at Luton Crown Court.
Zara, the youngest of seven children, said in her impact statement read out to the court: "He used to take me on bike rides but I am not allowed a bike any more.
"I went up two levels in English but I cannot tell my dad."
Mr Brace-Day, who was wearing a high-visibility jacket when he was hit, died 10 days before Christmas 2009 as he cycled from his home in High Wych to work.
Zara said: "I miss going out with my dad and his jokes and I am sad he will not see me grow up.
"I do not want to forget him. I will miss him on my birthday and I don't like Christmas now."
The court was told Mr Brace-Day would have been in the lorry driver's vision for at least 10 seconds and possibly as long as 18 seconds.
Prosecutor Sally Mealing-McLeod said Winfield was reported to have said at the scene: "I was driving along and all of a sudden he was there.
"There was a car on my other side and I could not move and I hit the bike. I feel sick thinking about it."
'No avoiding action'
She said his tachograph showed he was driving at 53mph along the 50mph stretch of road and there had been no reduction in speed approaching the collision.
Winfield was also banned from driving for a year.
Alexander Williams, defending Winfield, said: "He bears responsibility for their tragic loss and he bears it heavily.
"To this day he cannot understand how he failed to detect Mr Brace-Day on his bicycle."
Judge Andrew Bright told Winfield: "The most extraordinary thing of all is that you took no avoiding action at all. He bore no responsibility at all for what happened to him.
"The tragedy this case represents is beyond words. It is difficult to read the family's statements without tears forming."