'Long-term consequences' of decline in bee population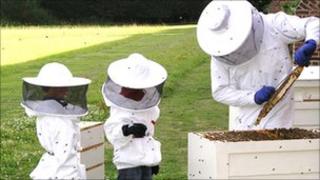 Beekeepers in Buckinghamshire are looking for secure sites where they can cultivate healthy bees.
The move follows the release of a United Nations report this month, highlighting the decline of the world's bee population and its consequences.
Buckinghamshire beekeeper Bryan Garson-Pilbeam said: "Without our bees, we face a massive pollination crisis that will affect the whole planet."
Mr Garson-Pilbeam keeps more than one million bees at Hartwell House, Bucks.
Economic importance
The United Nations says the world's bees face multiple threats and unless something is done to halt their decline, there could be serious long-term consequences for food supplies.
"The way humanity manages or mismanages its nature-based assets, including pollinators, will in part define our collective future in the 21st century," said United Nations Environment Programme executive director Achim Steiner.
Martin Smith, President of the British Beekeepers Association, said: "The BBKA is very pleased that the United Nations recognises the economic importance of managed honey bees, which make a £153 billion contribution to global food production.
"We urge increased planting of wild flower margins around agricultural fields and also stronger guidance to local authorities on increasing flowering trees and wild flower planting in towns and cities."