Comic Relief money supports ME sufferers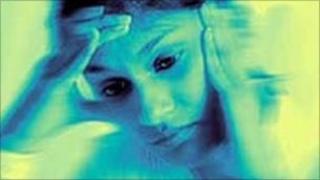 Money raised by Comic Relief is helping families in Buckinghamshire.
The Association of Young People with ME (AYME), based in Milton Keynes, supports young people affected by the illness.
ME, the common name for Myalgic Encephalopathy, can leave sufferers bedridden and at risk of depression.
AYME is currently receiving three years of funding from Comic Relief for its work with those suffering from the condition.
Jill Moss, herself an ME sufferer, started the charity from her Woughton Park home. It is now the UK's largest children's ME charity.
'Really frightening'
Shannon Lee, 16, from Milton Keynes, has had ME or Chronic Fatigue Syndrome for two years and has received support and advice from the charity.
Recalling the first time she fell ill, Shannon said: "I was at home getting ready for school and my legs just completely collapsed under me and I couldn't get back up."
Shannon's mother Mandy explained how at first she didn't know what was wrong with her daughter.
"She became really ill and collapsed daily," said Mandy. "It's really frightening to see your child collapsing all the time.
"We took Shannon to the doctors and they did blood tests but found nothing wrong with her."
Not only did the family struggle coping with their daughter's illness, they also had to deal with people who did not believe there was anything wrong with the teenager.
There is no medical test available for ME and not all medical practitioners acknowledge its existence.
"It's frustrating," said Mandy. "As a mother, you see your child become so ill and bed-bound, and when people say things like she's faking it or just being a lazy teenager and things like that, it's really upsetting."
Supporting services
AYME volunteer manager Sue Webb said: "We know how important it is to have good, understanding friends, which is why AYME offers lots of friendship-supporting services like an online community, pen pals, e-mates, buddies and local get-togethers, all run by other young people with ME."
The charity provided a home tutor for Shannon as she studied for her GCSEs, helping her achieve a C grade in English and D in Maths.
Despite her illness, Shannon has decided to continue with her education.
"I'm in college," said Shannon. "I'm only doing two hours at the moment, but it's better than nothing.
"There are still days when I can't get out of bed though, some days are better than others."