Athletes tackle Luton triathlon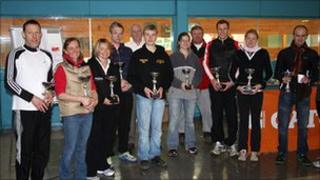 Athletes from across the UK took part in the Active Luton Triathlon on Sunday.
Staged at Putteridge Recreation Centre, 160 competitors completed the gruelling 400m swim, 20km cycle and 5km run.
It was a family affair for the winners of the open competitions.
Piers Vallance from Milton Keynes was the winner of the men's race with a time of 56 minutes 38 seconds, with his wife Claire winning the women's race in 1 hour 2 minutes, 13 seconds.
Daniel Blocksage was the winner of the junior event and 18th overall.
Luton athlete Michaela Harwin won the veteran 40 plus group and Debra Johnson the super veteran 50 plus category.
Event organiser, Phillip Jenkins said: "The atmosphere was electric with a positive buzz around the whole course. The feedback from competitors, race marshals and spectators has been excellent. This years event has received outstanding support, and with its structured professionalism, the day for the competitors was truly was a family affair."
This is the second year Luton has hosted the event.