Baby wallaby hand-reared in rucksack at Whipsnade Zoo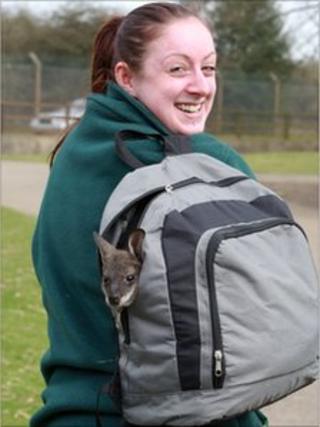 A baby wallaby, which was rejected by its mother, is being hand-reared in a rucksack at Whipsnade Zoo.
Keeper Alex Pinnell is using a back pack as a substitute pouch for the young marsupial.
She keeps the seven-month-old joey named Pip with her all day, just as its real mother would do.
She is also bottle-feeding the youngster, every four hours, day and night.
Ms Pinnell said: "Pip is adorable, but exhausting.
"Luckily she is starting to sleep through at night now and is very good at taking her bottle."
Pip will stay with Ms Pinnell for the next few months and eventually be released into the zoo's Children's Farm, where she will be able to roam freely.