Man 'might have dumped baby girl' in Bedfordshire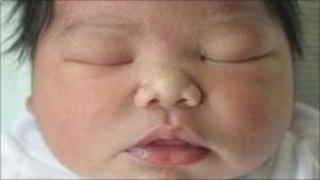 A man seen in a street with a heavy-looking black holdall might have dumped a newborn baby found outside a house in Bedfordshire, police have said.
The baby, named Isabella Ward by hospital staff, was found in a blanket inside a bag in Kipling Crescent, Stotfold, on 16 March.
The girl was discovered by the homeowner at about 2100 GMT as he was locking up for the night.
The man is described as white, in his mid to late 30s, slim and about 6ft.
He had short dark hair and was wearing dark clothing.
Concern for mother
A photograph of the bag the baby was found in has been released, which police hope will jog the memory of potential witnesses.
In particular, officers would also like to speak to a group of four or five teenagers who were seen in the park area in front of the house where the baby was left.
Police do not believe they are connected to the incident but might have been in a good position to see something.
Det Insp Jerry Waite said his concern was still for the mother.
"A week has gone by since the baby was left in Kipling Crescent and we still need to know what has happened to mum.
"The fact that a man may have been responsible for leaving the baby still means that she is unaccounted for.
"I really must stress that we are not here to judge the mum for any choices she has made.
"At this stage we just need to know she is safe and well. I would appeal to her, or the man who may be with her, to contact the police in confidence."
Isabella is being looked after by a foster family.