Ian Pearce: BBC Three Counties Radio presenter dies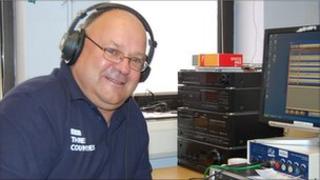 Ian Pearce, one of the best-known presenters and football commentators at BBC Three Counties Radio, has died.
The 56-year-old, who had been a presenter at BBC Three Counties Radio since 1989, passed away suddenly at home on Tuesday.
He had joined the BBC from Challney High School for Boys where he taught English.
He was best known for his Sunday morning faith programme and coverage of his beloved Luton Town FC.
The Venerable Paul Hughes, Archdeacon of Bedford, who knew Mr Pearce over a number of years, said: "I am very sad at the loss of a good friend, personally and to the whole of St Albans Diocese.
"In recent years, Ian had become a Christian and was not afraid to share his faith widely while retaining a down to earth presence.
"He was a true friend to the communities in the Three Counties. I give thanks for all he did as a brilliant local radio broadcaster."
'Witty and caring'
BBC Three Counties Managing Editor Mark Norman said: "I worked with Ian for 20 years. When I arrived at the BBC from newspapers in 1991, slightly bewildered and feeling very much out of my depth, it was Ian who took me under his wing.
"It's no exaggeration to say that a great deal of that which I have done and of which I am very proud in those two decades has been shaped by skills Ian taught me. I'm not alone in feeling that way, I know.
"Ian was many things. Witty, caring, compassionate, empathetic, sympathetic, enthusiastic, passionate and, at times, a right royal pain in the neck.
"He was a dear friend and we will all miss him terribly."
Tim Bishop, Head of Regional and Local Programmes for the East, said: "It felt like he'd been part of the place since the dawn of time.
"You name it Ian did it - commentary, journalism, documentaries, presentation including the evening regional show and ultimately Melting Pot, the Sunday morning show in Luton.
"He seemed to know something about everything and everything about some things."