St Albans clock tower reopens ahead of schedule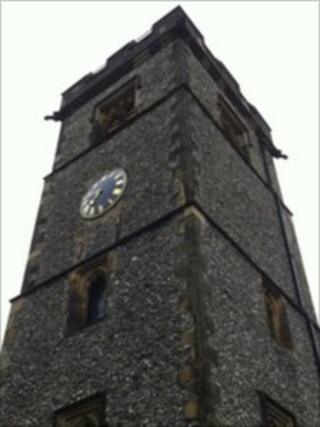 One of St Albans' oldest monuments has reopened after being renovated.
Vital repairs to the 600-year-old Grade I-listed clock tower have taken about 10 weeks.
The district council replaced ageing wooden louvre window slats and re-pointed much of the ancient brickwork.
A full survey of the medieval building, which was built between 1403 and 1412, was also carried out to secure its long-term future.
District archaeologist, Simon West said the clock had also been repaired.
"The clock wasn't working, the automatic winder had gone so we had to have that repaired too.
"It's been a very successful project, so successful that we've actually been able to open two weeks ahead of schedule," he said.
'Defiance'
It is thought the clock tower was built as a result of tension between the people of the town and those at the nearby abbey.
Councillor Sheila Burton, portfolio holder for culture and heritage at St Albans District Council, said: "The consensus of opinion is that the merchants of the town got together [to build it because] they were fed up of being ruled by the abbey.
"They [people at the abbey] controlled the clock and rumour goes that they would stick another 10 minutes or half an hour on the time, just so that the people working in the fields worked a bit longer if it was a nice evening. So it was put up in defiance of the abbey really."
It was also part of an important communication system which used a series of black and white boards put up at high points across the country.
In the 18th Century, people could communicate from it to Dunstable Downs 12 miles further north and, in the other direction, down to the south coast.
"It belongs to the council and we have a responsibility to look after it.
"It's the only medieval clock tower in England so it's one of a kind," Ms Burton added.