Police officer 'honoured' to serve at royal wedding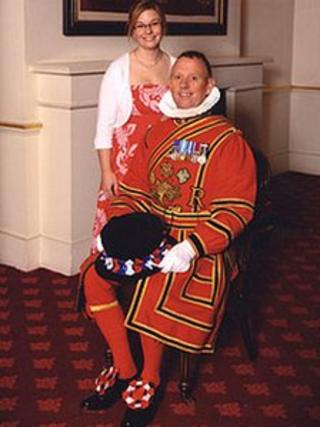 Bedfordshire police officer Pc Bill Tuffs changed uniform to perform his official duties as a Yeoman of the Guard at Friday's royal wedding.
Resplendent in scarlet, the officer from Luton was among those lining the aisle at Westminster Abbey.
Pc Tuffs served with the Coldstream Guards for 25 years before joining Bedfordshire Police in 1995.
He joined the Queen's Body Guard Yeoman of the Guard in 1996 and has worked at several state functions since.
'Beaming smile'
Speaking after the wedding, Pc Tuffs said: "I was on guard in the Nave at the Abbey, about three quarters of the way down the aisle.
"As Kate made her way to the alter she had a beaming smile on her face and I swear she looked straight at me and smiled.
"I'm sure the guy on my right would have said she was smiling at him, but as far as I'm concerned, that smile was just for me," he laughed.
On the morning of the wedding, Pc Tuffs and his colleagues entered the abbey through a side door before taking their places in the aisle at 10:37 GMT precisely.
"It was a real honour, a fantastic day that I'll never, ever forget," he said.