Luton firefighter faces crash death trial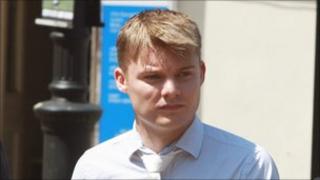 A Bedfordshire firefighter on a 999 call went through a red traffic light and crashed into a car causing the death of the driver, a jury has heard.
Robert Hulatt, 28, of Browning Close, Bromham, denies causing the death of 52-year-old Abdul Lateef Kadri Sheikh by dangerous driving.
He also denies an alternative charge of causing his death by careless driving, Luton Crown Court was told.
Mr Sheikh from Marlow Avenue, Luton, died 25 days after the crash in 2009.
Wayne Cleaver, prosecuting, told the jury the collision occurred shortly after 0830 GMT on 11 September 2009 at the junction of Chapel Street and Windsor Street in Luton.
Mr Cleaver said there were certain circumstances in which people in the emergency services could ignore the red light.
'Car pushed violently'
But he went on: "The Crown say this was not an unfortunate accident, it was a collision which could and should have been avoided."
A statement from witness Martin Quigley-Phipps, who assesses vehicle speed as part of his job, said he saw two fire engines with their lights flashing.
He said the fire engine in front was on the correct side of the road and there was nothing ahead of it.
Mr Quigley-Phipps said the fire engine slowed down briefly, but estimated it was travelling at 30mph as it continued through the red light.
"I saw a flash of silver as a car appeared out of Windsor Street into the path of the fire engine," he said.
"There was an explosion and debris was thrown in the air and the car was pushed violently into the front of the disused pub."
Mr Cleaver said Mr Hulatt went through the red light when clearly there was traffic coming into the path of his heavy and substantial vehicle.
"Also at that particular junction, the view to the right into Windsor Street from where Mr Sheikh was travelling is rather obscured by the buildings on the corner, and it would not have been clear as to what, if anything, might have been emerging from the right until he was at that junction," he said.
Mr Cleaver said if the jury decided Mr Hulatt was at fault they would have to decide the degree of his fault and whether it was dangerous or careless.
His trial continues.