Crash was Bedfordshire firefighter's 'worst nightmare'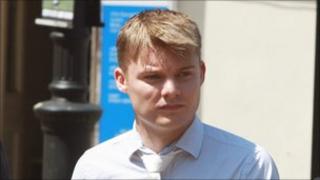 A Bedfordshire firefighter who was on a 999 call when his vehicle crashed into a car killing the driver, has told a jury that it was his "worst nightmare".
Robert Hulatt, 28, of Browning Close, Bromham, denies causing the death of 52-year-old Abdul Lateef Kadri Sheikh from Luton by dangerous driving.
He also denies an alternative charge of causing death by careless driving.
Mr Hulatt told Luton Crown Court he could not imagine how Mr Sheikh's family felt.
"I know I think about it every morning I wake up, and every night I go to bed. It is awful and it is with me all the time," Mr Hulatt said as he gave evidence.
Mr Sheikh from Marlow Avenue died 25 days after the crash in 2009.
For the prosecution, Wayne Cleaver alleges that Mr Hulatt crossed a red traffic light at a crossroads knowing the view of traffic coming from his right was restricted.
Mr Hulatt told the jury he knew the route well and also knew that the right hand corner with Windsor Street was a blind spot until very close to the junction.
He said: "It was rush hour and it was a nightmare getting through the traffic.
"The first thing I saw in Chapel Street was the red light. I clocked it straight away."
He said he decelerated, changed the sound of the sirens and the commander had his hand on the bull horn.
"I saw the taxi had stopped to my left and my view to the right was opening up all the time, but it is not ideal.
"I did not see anything coming when suddenly a silver flash came across the front of the engine. We just did not know what had hit us."
Mr Hulatt said he carried on and then realised it could have been a car.
"I ran back down the road and saw the car on its side and a man in it, and it hit me what had happened. There were people trapped, it was just terrible, awful."
He denied his concentration lapsed when he was under high pressure.
He said: "I can operate under pressure. I was doing my job and I was doing my best."
The case continues.