Bedfordshire fireman cleared of 999 call crash death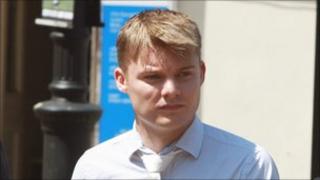 A Bedfordshire firefighter on a 999 call has been cleared of causing the death of a man in a collision in Luton.
Robert Hulatt, 28, of Browning Close, Bromham, had denied causing the death of 52-year-old Abdul Lateef Kadri Sheikh by dangerous driving.
He had also denied an alternative charge of causing his death by careless driving, Luton Crown Court heard.
Mr Hulatt was responding to a report of people trapped in a house fire, when the collision happened in 2009.
Mr Sheikh, of Marlow Avenue, Luton died in hospital, 25 days after the crash, on 11 September.
Since the crash, Mr Hulatt has continued working in the fire service but not as a driver. He originally stood trial in December last year but the jury was unable to reach a verdict.
The court heard that as the engine was heading out of Luton town centre, the radio operator informed Mr Hulatt they had been given the wrong location for the fire and it was now reported to be a mobile home on fire, which he said made it even more serious.
Mr Hulatt had earlier told the court he could not imagine how Mr Sheikh's family felt.
"I know, I think about it every morning I wake up, and every night I go to bed. It is awful and it is with me all the time," Mr Hulatt said, as he gave evidence.
The prosecution told the court Mr Hulatt crossed a red traffic light at the junction of Chapel Street and Windsor Street, knowing the view of traffic coming from his right was restricted.
Mr Hulatt told the jury he knew the route well and also knew the right hand corner with Windsor Street was a blind spot until very close to the junction.
After the trial, Mr Sheikh's family issued a statement describing him as an "unforgettable man".
"He was a lively, friendly and warm human being, caring and charming, who would always put a smile on everyone's face," they said.