Archbishop of Canterbury visits Buckinghamshire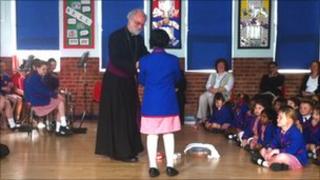 The Archbishop of Canterbury has visited Buckinghamshire, as part of a four-day visit to the Diocese of Oxford.
Dr Rowan Williams spent time at High Wycombe University where he held a private meeting with faith leaders.
He then visited All Saints Church of England Combined School in High Wycombe, where he held an assembly for staff and pupils.
It is the first time since 1999 that an Archbishop of Canterbury has formally visited the diocese.
The Archbishop said: "It has been a real pleasure to be back in the Diocese of Oxford for a few days.
"It has always been one of the most varied and creative in the Church of England. My years as a Canon of Christ Church and an honorary curate at St Alban's in Cowley helped me get to know something about this variety and liveliness.
"A diocesan visit is always a chance not only to share good news but also to hear it from people working out their discipleship at the grass roots - and this is what I shall most look forward to," he said.
The visit also included a private visit to HMP Grendon in the afternoon and ended at the Diocesan Church House in North Hinksey, Oxfordshire, where he met staff working for the diocese.