Community Payback offenders clean-up scheme extended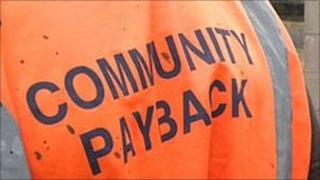 A scheme which sees low level offenders clean up Marlow town centre has been extended.
Thames Valley Probation Service has been providing workers as part of the government's Community Payback scheme for the past year.
Following the success of the scheme, the town council has now agreed to extend it for a further 12 months.
Payback sees convicted criminals improve their local area by removing graffiti and picking up litter.
Funds pledged
Councillor Richard Scott said: "We are going to extend Community Payback to once a week to help us on general maintenance projects.
"We had a contract for 12 months and now we've extended that by another 12 months."
He also pledged funds to continue improving the area.
"We want to continue with the Town Improvement Fund," he said.
"We have got some quite good reserves at the town council at the moment and we want to make sure we spend that on improving the town."
Mr Scott said local residents were pleased with the results of the scheme.
"We have cleared the area around the station, which is a gateway to Marlow and was particularly unattractive, and received positive comments back from the public," he said.
Offenders wear orange jackets with Community Payback written in large capital letters on their back.
The government says this is to make the punishment more visible and remind the public that lawbreakers face consequences.