Luton Town fans angry at play-off final ticket prices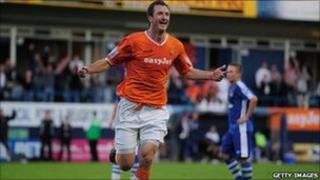 Luton Town fans have been voicing their anger at ticket prices for the team's Conference play-off final.
The fixture will be played at Manchester City's Eastlands stadium with tickets costing £36 and £41 plus booking fee and postage.
They go on sale on Thursday at 0900 BST but must be purchased via an agency.
Luton reached the final, which will be played on 21 May, after beating Wrexham 5-1 on aggregate following a 2-1 win at Kenilworth Road.
Kevin Barrett, chair of Luton Town Supporters Club, said: "What really grates with a lot of fans that I've spoken to, are the additional charges.
"Twenty per cent of a basic ticket is being added on so realistically if you're going for the highest level ticket (£41), you're really paying nearly £50.
"There are a significant number of fans I've heard from who say they simply can't afford it, particularly those fans who've got families with perhaps or three or four people wanting to go."
Mr Barrett also said he believed the Conference could have made more money with lower ticket prices.
"We could have taken a much larger number of people than will travel," he explained.
"Ultimately the Conference could have made more money by getting 25,000-30,000 people into that stadium paying a lower price than by pricing people out and ending up with 10,000-15,000."
Addressing concerns
Luton Town's managing director Gary Sweet said the club was trying to address fans' concerns and get further concessions on ticket prices.
"There are a number of things that we're trying to do. I'm happy to say that the Conference have made some changes based on our recommendations about allowing further concessions so we are winning small battles on this one but not the big one on ticket pricing."
In a written response the Football Conference said: "It is a very difficult task for clubs within the competition to sell the vast amount of tickets required in such a short window of time whilst handling all the other issues that come with the final.
"The booking fees are in place to cover the commercial cost of potentially selling 47,000 tickets in nine days."
In response to fans, some of whom are unhappy about the choice of Manchester as the final venue, the Conference said that they were unable to acquire Wembley Stadium because of the Champions League Final.
UEFA rules prohibit use of the stadium up to 14 days before the date of the final, plus selection was limited because of Premier League fixtures.