High Wycombe theatre group puts Herod up for auction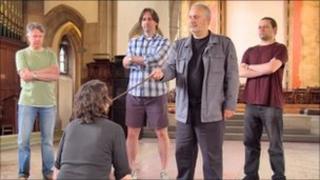 A major role in a production of Jesus Christ Superstar is being auctioned on Ebay.
The Wycombe Society for the Performing Arts is offering the role of Herod in its production of the musical to the highest bidder.
The group came up with the idea after the person who was originally cast had to drop out.
They are looking for an actor for each of the five performances in order to raise extra funds.
Director Mark Bolkonsky explained why the society had decided on this unusual casting method for Tim Rice and Andrew Lloyd-Webber's musical.
"It's such a well known show that we wanted to open up more opportunities to get more people on board and also get the word out there that the show was on," he said.
"We're just looking for someone who is enthusiastic, humorous and can just get into the sprit of the show."
'Comic relief'
Mr Bollonsky added that King Herod appeared only once and sings a song of just over three minutes so winning bidders will not have to learn any dialogue.
Each performance date is listed individually on the auction site and there will be just one rehearsal with all five winners.
"As the show is about the last days of Jesus' life, it doesn't have a lot of humour in it.
"This song was put in as comic relief before things get really dark, so the actors don't need any acting ability or gravitas, just the ability to put across a great comic song."
The show is being produced as a promenade production where the audience can either remain in their seats, or mingle with the cast as the action takes place.
However, despite all the challenges involved, the director is confident that anyone who "wins" the role will be able to do it.
"I woudn't let a performance make the show a disaster," he added.
"The Musical Director and I are very experienced and we can get a good performance out of whoever wins the bid. I truly believe that anyone with the interest to bid will be able to do it."
The Wycombe Society for the Performing Arts production of Jesus Christ Superstar is on at the Arts4Every1 Centre from the 25-28 May.
To find the Ebay listing, type "Play Herod in Jesus Christ Superstar" in the search bar.