Luton airport chemical alert man gets suspended term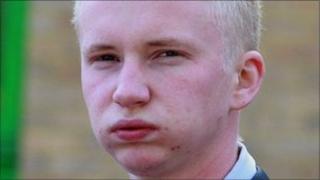 A man who caused a major security alert when a chemical leaked from his holdall in the baggage area at Luton Airport has been given a suspended sentence.
Dariusz Tkaczyk, from Slough, who had pleaded guilty to behaviour likely to endanger an aircraft, was given a six month sentence suspended for 18 months.
The judge at Luton Crown Court said Tkaczyk, 21, had acted "recklessly".
Two baggage handlers were overcome by fumes and flights were delayed in the incident on 23 July last year.
Judge Jeffrey Burke QC told him: "Because of your enormous remorse and distress I do not intend to send you to prison.
"You seem to have acted at a great height of stupidity and naivety, but this was reckless and not deliberate. However thousands of people were inconvenienced and the cost is incalculable.
"It is said it would have been unlikely to cause damage to the structure of the aircraft but if it leaked and smoke and fumes escaped the effect might have been very significant."
'Unique case'
The court heard Tkaczyk, originally from Poland, had put the chemical in a five litre plastic container and into his holdall.
He had been asked the usual questions at the check-in desk for the flight to Gdansk, given a copy in Polish and been shown the picture chart, but said the bag was all right.
But the liquid began leaking before the bag was loaded onto the Wizzair flight.
Kevin Molloy, defending, said: "His is a rather unique case. He is absolutely terrified and his remorse is genuine.
"He is completely overwhelmed by the enormity of the situation and repeatedly apologises for the inconvenience and distress he caused."