Stapleford recycling plant fire stops rail services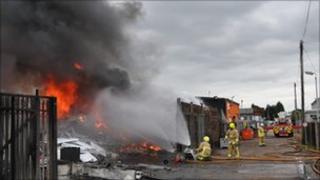 Rail services in Hertfordshire were stopped for five hours by a fire at a recycling plant at an industrial estate alongside a main line on Tuesday.
Firefighters called to Warrenwood Industrial Estate in Stapleford just before 1600 BST on Tuesday to deal with a large scrap metal fire.
They found gas cylinders on the site and set up a 100m exclusion zone.
This included the rail line between Stevenage and Hertford. Roads near the estate were also closed for five hours.
The incident was over at about 2100 BST, the fire service said.