Illicit diesel seized at Bedfordshire filling station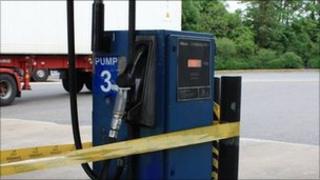 Diesel fuel adulterated with kerosene has been seized by customs officers at a filling station in Bedfordshire.
A number of lorry drivers had already filled up unwittingly with the diesel at the site near junction 13 of the M1, HM Revenue and Customs (HMRC) said.
The illicit fuel was detected by fuel testing officers on Wednesday and the 200,000 remaining litres were seized.
Early indications suggest that lower duty but highly-combustible kerosene had been added to the fuel, HMRC said.
Eight fuel pumps were immediately sealed off and the contaminated fuel was taken away for destruction.
HMRC director Stuart Crookshank said: "Our officers around the UK have already detected this fuel in lorries as far afield as Wiltshire and the West Midlands.
"Hopefully, our intervention has safeguarded trucks from across the UK.
"The addition of kerosene would have made the fuel more combustible and prolonged use would undoubtedly damage the engine of any vehicle."