Milton Keynes shootings: police hunt six men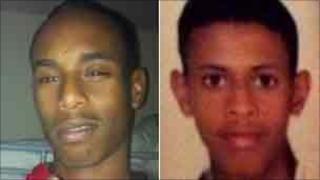 Detectives investigating the shootings of two teenagers in Buckinghamshire are looking for a group of six men seen shortly after the murders.
The six were seen leaving an alleyway on the Fishermead estate in Milton Keynes after Mohamed Abdi Farah, 19, and Amin Ahmed Ismail, 18, were shot.
Thames Valley Police said the six were all black and spoke in a foreign language.
The victims were killed shortly after 2200 BST on 26 May.
Det Supt Rob Mason of Thames Valley Police said: "We need to identify these individuals who may have vital information.
"They were seen ambling away down the boulevard and then up another alleyway towards the town centre.
"We need witnesses to come forward with critical information. They can talk to us anonymously."
Fisherman's hat
Both victims were from the Somali community and were known to police for low-level criminal activity. Detectives have so far ruled out the theory that the killings were gang-related.
CCTV images of Mr Farah wearing a fisherman's style hat and Mr Ismail wearing an orange hooded top have been released by police.
The footage was taken at the Xscape leisure complex in Milton Keynes, at about 2135 BST on the night they died.
The dead men left Xscape at about 2141 BST. They then walked back to the estate and were last seen near X-Trim barbers shop, in Gurnards Avenue, at about 2150 BST.
Five men, four in their 20s and one 31-year-old, and a 13-year-old boy have been released on bail in connection with the murders.