Work to start on £2.2m station building for Wolverton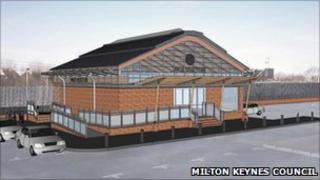 Construction of a new £2.2m station building in a Buckinghamshire town will start on Monday.
The building at Wolverton will include a new ticket office and booking hall.
Milton Keynes Council said the new building was in keeping with the town's railway heritage and would provide significantly improved facilities.
It said there would be no disruption to train services, or to passengers' ability to get to and from the platforms during the work.
Councillor John Bint, cabinet member responsible for transport, said: "This is an exciting time to see work starting on the new station building.
"It has been the culmination of several years of hard work, securing the funding, designing the building, and consulting with all of the relevant interested parties, including of course local residents."
'Community benefits'
Wolverton railway works was established in 1838 to service steam locomotives making their way north from London. Its historic railway sheds, including the former Royal train shed, have recently undergone a £65m redevelopment.
Jo Kaye, route director for Network Rail, said: "Wolverton has always been a railway town, so it's great to see investment in the station to deliver long-lasting benefits for the community."
The budget of £2.2m has come from two separate government grants, the Communities Infrastructure Fund (£400,000) and the Growth Area Fund (£1.8m).
The work is scheduled to be completed in early spring 2012.