Bedfordshire farmer prepared for drought conditions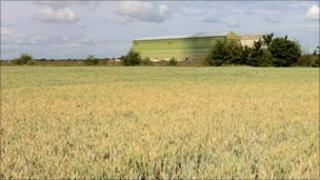 With parts of England officially in a drought, a Bedfordshire farmer is hoping his farm will be able to cope with the difficult conditions.
William Finley runs Lake Farm in Cardington and specialises in crops including onions and potatoes.
The farm has a reservoir which Mr Finley hopes will see it through the drought.
The family, which has farmed in Cardington for over 50 years, says this is the driest spring it can remember.
"My dad will always quote 1976, but I can't remember back as far as that," said Mr Finley. "He says it's as dry now as it was then.
"We've had only about 20% of the rainfall here in Bedfordshire that we would normally have had for this time of year."
'Not reliant'
Mr Finley explained how the reservoir, which is filled in the winter from a stream running through the farm, is emptied in the summer to irrigate the crops.
"Unlike a lot of farmers we are not completely reliant on surface water. We are fortunate to have invested in the underground winter reservoir, but even then we are still going to have to watch our water supplies very carefully.
"We grow potatoes and onions here, they have to have water when they need it otherwise you don't get the size or the yield required for economical supply," he said.
The family is hoping the investment will mean the farm will have enough water to last the season.
"As a farm with good infrastructure we should be able to get through this - but you never know what the future holds," said Mr Finley.