Rare Elvis letter to Buckinghamshire fan to be auctioned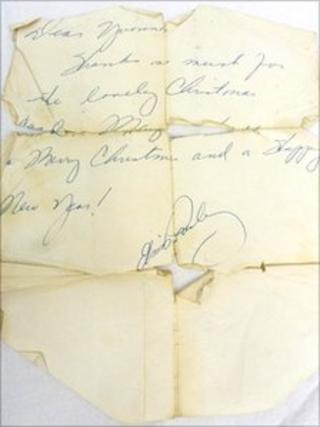 A rare thank you letter from Elvis Presley, discovered by the family of a lifelong fan after her death, is to be auctioned.
The letter says: "Dear Yvonne, thank you so much for the lovely Christmas card and magazine and a Merry Christmas and a Happy New Year! Elvis Presley."
The letter, found in Bucks, is being auctioned at JP Humbert, Towcester, Northamptonshire, on 23 June.
It is estimated to sell for between £2,500 and £3,000.
Written in blue ball point pen on cream paper, the folded letter has been verified as having been written by Elvis Presley.
Experts could authenticate his signature at the time of writing, and also by examining the type of paper it would have been written on, auctioneer Jonathan Humbert said.
He said: "The family of Yvonne, who was a lifelong Elvis fan, were clearing her estate and found this in her handbag.
'Original fan'
"Bearing in mind Elvis died in the late 70s, it seems it has been in her handbag ever since.
"We think it's probably circa early 1960s, his writing changed through his career and it became more and more spurious, but it's authenticated by other signatures of the 1960s."
The rare letter was sent to Yvonne because she had been in communication with Elvis for years and was one of his original fans.
Also included in the auction is a facsimile letter from Graceland to fans.
In this, the name Yvonne has been added in what appears to be Elvis' hand. It was written just before the filming of Blue Hawaii in the early 1960s, Mr Humbert said.
A portrait photo of Elvis with a facsimile signature saying "Thanks Elvis" is included in the sale.