Luton teenager stabbed 'buying drugs', court told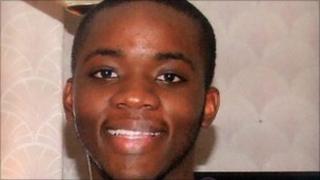 A 17-year-old boy was stabbed to death after going to buy cannabis from the teenager accused of murdering him, Luton Crown Court has heard.
Michael Simwanza was found with stab wounds at Kingsway recreation ground, Luton, last October.
Kierron Brown, 18, from Eynsford Road, Luton, admitted stabbing the victim but claimed he was acting is self defence, the court heard.
Mr Brown denies murder and the trial continues.
Michael, from Farley Hill, Luton, died from a stab wound to his chest three days before his 18th birthday.
The court was told that both teenagers were at the recreation ground to conduct a drugs deal.
Imitation BB gun
Prosecutor Beverley Cripps told the court: "The defendant has suggested that Michael had a gun with him and indeed, a pistol was found later at the scene. It was an imitation BB gun.
"Brown admitted he was carrying a hunting knife and it was that knife which inflicted the fatal injury."
The jury was told the drugs transaction became violent and was witnessed by spectators of a football match.
Miss Cripps said: "Spectators saw Mr Brown have hold of the other man's top and someone shouted at them to stop.
"He was seen to let go of the top and as he did so they saw a knife in his outstretched hand. Michael fell forwards onto the ground. He was fatally wounded."
The court heard Mr Brown claimed the victim pulled a gun on him and told him to give him everything he had, however the prosecution said this account was untrue.
The case continues.