Christadelphians celebrate 400 years of King James Bible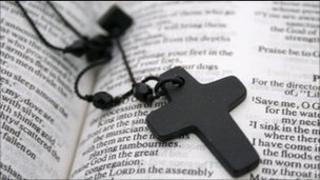 A Bedfordshire Christian group are to celebrate 400 years of the King James Bible by reading non-stop from Genesis to Revelation.
Dunstable Christadelphians hope to draw attention to the relevance of the Bible for life today.
Reading at an average of 200 words a minute, 25 volunteer readers will take part in the 800,000-word marathon read.
The event will take place on Sunday 10 July and last for three days and nights.
"It's a quirky idea but also has the serious message that the Bible is freely available in our own language and really is a book worth reading," said event organiser Jeremy Pearce.
"It tells the story of our world and has powerful messages about how we can find peace with God."
'Original beliefs'
There has been a Christadelphian community in Dunstable for around 30 years. Their faith is based solely on the Bible and their message is focused on the original beliefs and practices of the Christian church.
The Bible reading will start on Sunday 10 July until 13 July at the Dunstable Christadelphians hall in Kirby Road, Dunstable.
Visitors are invited to join in with the reading which, during the daytime, will take place outside the hall.