Your Paintings: Bletchley art features on new website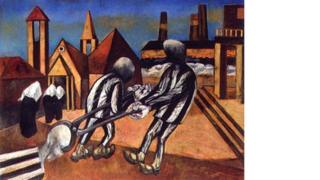 A series of paintings by a Polish artist which were donated to Bletchley Park are featuring on a BBC website.
Your Paintings brings together the UK's national art collection in one place and includes six vividly expressionist paintings by Piotr Mleczko.
The inclusion of these pictures at Bletchley is a reminder of the contribution made by the Poles in the early breaking of the Enigma code.
They were donated to the Trust by the artist's wife in 2002.
Piotr Mleczko was born in Poland in 1919 and in 1939 became a prisoner of war in Nazi Germany.
For five years he was forced to watch what was happening in a concentration camp from his PoW compound which had been built nearby.
As a result he became mentally scarred and following his release in 1945 he sought an outlet for his experiences which were still vivid and frightening.
Art provided that outlet and in turn became Mleczko's powerful medium of communication.
Bletchley Park archivist Stephen Ovens said: "It's a terrible event that [these pictures] portray but I think it's also very important that those images are not lost.
"They are precious because you have the intensity of the actual viewer who saw the event rather than just seeing it second hand. He actually saw what terrible atrocities went on."
The six paintings donated to Bletchley Park were 'Anniversary' which depicts concentration camp figures, 'New Transport' which shows a line of refugees, 'Watchful Eyes', a portrait of a German soldier, 'No 39651' and 'Empty Tin' which are both portraits of guards at the camp and 'Year 1944' which shows a concentration camp inmate on all fours.
National art
The paintings feature on a new website from the BBC in partnership with The Public Catalogue Foundation and art collections across the UK.
Your Paintings brings together the UK's outstanding national art collection of 200,000 oil paintings, held in a vast range of public institutions.
There are masterpieces in major galleries, hidden gems in local museums and town halls, and even art in fire stations, hospitals and schools. And though they are owned by UK publicly-funded organisations, 80% of the paintings are not on display. They are either hidden away in storage, or are in buildings that the public cannot access.
Your Paintings brings together all these artworks, with the stories behind them, and where to see them for real. Whether you're a student, history buff, art lover or just interested in discovering the UK's hidden treasures, for the first time you will finally see the incredible art that is owned by the Nation.