Michael Simwanza death: Luton man cleared of murder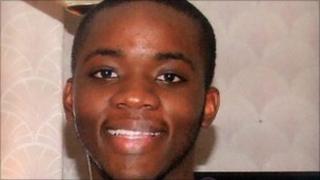 A mother broke down and was removed from court when a jury cleared a teenager of murdering her son.
Julie Bwalya, 35, yelled out in anguish as Kierron Brown, 18, was found not guilty at Luton Crown Court of murdering Michael Simwanza, 17.
Mr Brown, of Eynsford Road, Luton, denied murdering Michael on 31 October last year.
He admitted pulling a knife but said it was in self-defence because Michael had pistol-whipped and robbed him.
Mr Brown cried with his head in his hands in the dock and three women in the jury were also in tears on Wednesday.
Mrs Bwalya was removed from the courtroom by police officers.
'Kidnapped and threatened'
The court heard her son, who went to school in Hemel Hempstead, was fatally stabbed in the chest at a Luton recreation ground where he had gone to buy cannabis.
The dealer, Mr Brown, later told police he had taken the knife with him to Kingsway recreation ground for protection as he had been kidnapped and threatened in the past.
Prosecutor Beverley Cripps said Michael, from Farley Hill, Luton, went behind the clubhouse at 61FC on Dunstable Road, where Mr Brown was going to sell cannabis for £20, but the transaction became violent.
She said witnesses saw a knife in Mr Brown's hand.
"Michael fell forward onto the ground. He was fatally wounded," said the prosecutor.
'Family threats'
Giving evidence, Mr Brown admitted pulling a hunting knife on Michael.
He said: "I was scared. I thought he was going to shoot me so I pulled my knife out and swung it around.
"I didn't think I had connected with him. He just carried on hitting me."
Mr Brown admitted he had gone to the recreation ground to sell cannabis to a friend.
When the friend did not turn up he got talking to Michael who he had never met before, he said.
Asked why he carried the knife, he said he had been kidnapped three weeks before and beaten up.
He said he and his family received threats and he believed the person who had set up the kidnap was another cannabis dealer.
Mr Brown was freed by Mr Justice Cooke, who told the jury: "I am sorry the case was distressing for you, too."