First Milton Keynes marathon plans revealed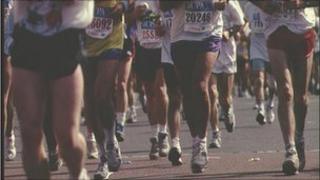 Details of the first Milton Keynes marathon have been unveiled with organisers hoping that 6,500 runners will take part.
Billed as the "Green Marathon", entrants will use the Redways, the town's red-surfaced pathways, and run around lakes and the Grand Union Canal.
The event will take place on 29th April 2012 and will finish at Stadium:MK, the home of the MK Dons.
It will be paid for by corporate sponsorship and entry fees.
Organisers have called it a city marathon with a difference due to the 4,500 acres of woodlands, lakes, parks and landscaped areas within the town's boundary.
In keeping with the green theme, the organisers are also aiming for a paper-free application process and to make sure all the plastic cups and bottles used to refresh runners are recyclable.
Road closures
Some road closures will be necessary but due to the Milton Keynes' grid road system - made up of 11 roads aligned roughly north-south and 10 aligned roughly east-west - there will be other options for motorists.
David Hill, Chief Executive of Milton Keynes Council, said he thought local people would be understanding.
"The structure of the highway network here is such that it's very easy to close off a particular road and offer drivers an alternative route," said Mr Hill.
"In Milton Keynes we've got alternatives and part of the route is using Redways which will have a less disruptive effect."
Launching the event at Stadium:MK, Chairman of the MK Dons, Pete Winkleman, said he believed the layout of Milton Keynes and its Redway network, which is currently 273km long, lent itself to a marathon.
"We've got a unique place here, something that's very different from anywhere else around the country," he said.
"We can use all our Redways and our great linear parks. People are talking about it being a green marathon and I think that's a great way of describing it and certainly only Milton Keynes could do it."