Milton Keynes dragon boat festival set to make a splash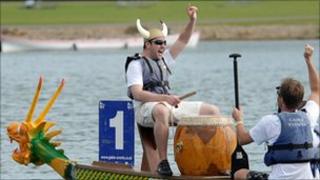 The tenth Milton Keynes dragon boat festival will take place at Willen Lake on Sunday.
The festival, which is one of the largest charity dragon boat events in the country, will see around 60 crews from across Buckinghamshire race on the 200m (220 yards) course.
Organiser Merklyn Hauck says he was overwhelmed by the number of entries.
"It is a testament to the popularity of this event that we have once again achieved the maximum entry," he said.
"We are sure that both crews and spectators will enjoy a fantastic day."
The races will take place every ten minutes with the first race at 0930 BST, ending with the final race at about 1715 BST.
Entrance to the festival is free to spectators.