Pensions strike shuts schools and causes airport delays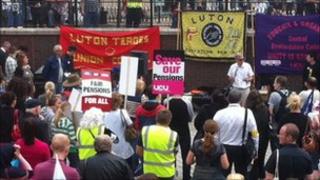 More than 250 schools across Bedfordshire, Hertfordshire and Buckinghamshire are shut because of strike action by two teaching unions over planned pension changes.
The action is being taken by the National Union of Teachers (NUT) and the Association of Teachers and Lecturers (ATL).
Civil servants are also striking over the government's proposed reforms.
Passengers using Luton Airport were warned to expect delays.
Hertfordshire County Council said 145 schools were closed in the county, while Buckinghamshire County Council announced 61 school closures, with a further 27 closed in Milton Keynes.
Bedford Borough Council and Central Bedfordshire Council each announced 30 schools closures.
Luton Borough Council said a total of 23 schools were closed in the town.
'Feel strongly'
Luton teacher Steve Coghlan said: "I work in the public sector and I think we teachers, nurses, dinner ladies, lollipop ladies and people like that were not the cause of the crisis but the government want to punish us and rip us off.
"The government, a cabinet full of millionaires, are quite happy to slash our pensions. They don't need to live on a pension when they're older. We do, we are normal working class people."
Carol Pritchard also teaches in Luton and said that teachers need to stand up for everybody's pension.
"It's not just teachers that are under attack and I think we all need to stand together and show the government that we feel very strongly," she said.
"They talk about gold plated pensions but I don't actually have enough in my pension fund for me to retire so I've made arrangements for extra payments into an extra pension so that I could retire at 60.
"Now because they say I'm going to have to work to 66, maybe even more, I'm going to have to readdress those private pension payments as well."
Oliver Heald, Conservative MP for North East Hertfordshire who sits on the Work and Pensions Select Committee, said the government was still negotiating on all the issues.
"Each of the public sector pension schemes is different and it is necessary to look at what needs to happen for each one and to negotiate with each of them," he said.
The teachers re-negotiated their pensions in 2006 but since then, Mr Heald said that "longevity estimates have absolutely rocketed".
"It's estimated that a girl born today in our area would on average live to be 100," he said.
"It's something that the private sector has had to deal with and the public sector has to too.
"If we're all going to live a bit longer than we thought it's very good news for Britain but it does have to be paid for."
Passenger delays
London Luton Airport has warned that passengers are likely to be affected after members of the Public and Commercial Services Union (PCS) began a 24-hour walkout at 2200 BST on Wednesday.
The airport said passengers might be delayed at passport control and asked them to help keep disruption to a minimum by having passports and travel documents ready.
"The passengers affected will be those arriving from outside the UK," said Oliver Haycock, from London Luton Airport.
"The UK Border Agency has put contingency plans in place to ensure that support staff can man the posts if necessary."