Fishermead gun murders: Police plea after 'weapon find'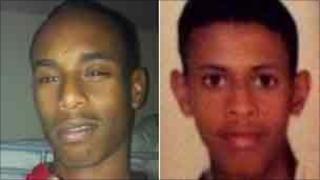 Five weeks after two Somali teenagers were shot in Milton Keynes, police believe they have finally found the murder weapon.
Thames Valley Police sees it as crucial after Mohamed Abdi Farah, 19, and Amin Ahmed Ismail, 18, were shot on the Fishermead estate, on 26 May.
Four boys were questioned on 1 July, on suspicion of possession of a firearm, before being bailed.
It has prompted new police pleas for information on the "brutal killings".
Four people were re-arrested on Wednesday in connection with the inquiry. Three men, two of them 20 and a 23-year-old, along with a 17-year-old boy are being questioned by detectives in Milton Keynes.
Det Supt Rob Mason, who is leading the investigation, said it was now "vital that anyone who has any information about the murders tells the police what they know".
The murders - not gang-related, according to police, have shocked estate residents because, while the area has a bad reputation, the violence was at another level.
However, despite its worsening reputation, Milton Keynes Council is keen to stress that it is not simply "a bad place" and there are positive things going on.
"Clearly this is an estate which has issues, which have been recognised and all the agencies are working together [to help]," Councillor Isabel McCall told BBC reporter Shaun Ley.
"But these two young men were shot in the head. The sheer brutality and unexpectedness of it is what's caused so much shock locally."
Richard Solly, the council's head of safety, said despite being a multi-ethnic estate people tend to live "harmoniously".
"It has its share of difficulties but it's not a bad estate and these murders were particularly out of character," he said. "The use of a gun was a particular shock."
Research has shown however, the area, with a population of about 5,000, has its problems.
In 2004, Home Office inquiries showed that while its central location offered employment opportunities, there was concern among residents about an over-spill of crime from those on nights out in the town.
'Understanding boy'
Other problems included the deterioration of buildings, of which a significant minority were estimated to be houses of multiple occupation (HiMOs), leading to a high turnover in population, proving detrimental to the sense of community.
However, the victims in this case were apparently only visiting Milton Keynes, where Farah had been brought up, when they were killed. Amin was from London.
Police said the victims were only known to them over low-level criminal activity and the families have been very keen to stress neither boys were "bad".
At a public appeal Mohamed's mother, Fadamo Abdi, expressed disbelief about her son's killing.
"Mohammed was a kind, helpful understanding boy," she said.
Amin's family said in a statement the teenager, who came to England aged 10, was also "very, very kind".
Following their deaths, police have stepped up patrols in the area, which they hope have made them more approachable.
"We've actually had some really good results and most of those have been as a result of the community talking to us," said Colleen Lavery, neighbourhood policing officer.
However, they appear little closer to establishing a motive for the killings, which could be over an extremely minor misunderstanding, according to Professor John Pitts of the University of Bedfordshire.
Research he has carried out in London showed, for example, "In Lambeth, people get shot for rumours, or a slight".
'Tools for integration'
"Something is put on a website or someone is "dissed". It's perceived as a dangerous world so you have to be seen to take care of yourself and you won't let an insult go.
"But not in Milton Keynes."
The council has stressed that there are positive things happening on Fishermead including the Ethnic Minority Achievement Service (EMAS), an education project which works very closely with the Somali community, and other ethnic communities, to teach English and "upskill people".
Mr Solly said: "It provides the tools necessary for integration, such as employment, and has been well received by the community.
It is hoped such co-operation can lead to Amin and Mohamed's killers being brought to justice
Det Supt Mason, has vowed that the case "is not something we are ever going to give up on".
"If you have information which may help, contact me on 0845 8 505 505," he added. "If you do not wish to give your name, contact Crimestoppers on 0800 555 111."