Milton Keynes' Secklow Gate bridge re-opens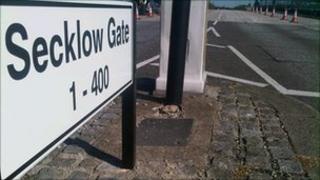 A Buckinghamshire road bridge has reopened after being closed to traffic for 18 months.
Secklow Gate bridge in Milton Keynes, which crosses the town's market near Midsummer Arcade, was damaged by fire in January 2010.
A pressure group, Xplain, led a campaign to repair and reopen the bridge.
Its leader Linda Inoki said motorists had been forced to take "massive detours".
"Milton Keynes is famous for its grid roads but with the bridge having been closed for so long, the grid road system has been broken," she said.
"People have had to take massive detours and it has caused a lot of congestion on the surrounding roads."
An internal investigation and audit by Milton Keynes Council into the closure of the bridge is continuing with the results expected this autumn.