Luton's Vauxhall Motors announces new apprentice scheme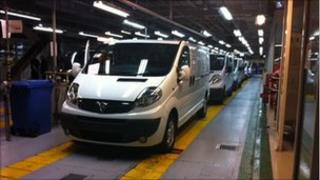 Vauxhall in Luton is relaunching its apprenticeship scheme for the first time in more than 15 years.
The car firm has made the move after its future was secured by General Motors' decision to build the new Vivaro van at the plant.
The scheme, which is open to young people aged 16 years and above, starts in October.
Plant director Mark Stein says it is good news for the British motor manufacturing industry.
"Up until very recently we weren't in a position to take on apprentices on a three or four-year programme because we didn't know for sure that we, as a plant, even had a future - let alone a solid future for them.
"The decision in March to build the replacement for the Vivaro in Luton gives us a very solid future and it's now more important than ever that we get skilled apprentices in."
'Enormous benefits'
Julia Brady, from the National Apprenticeship Service (NAS), has been working with staff at the plant to help introduce the scheme.
"We've been exploring ways to bring in young people from Luton, develop them and give them the skills they need to build vehicles here in their home town," she said.
"Apprenticeships bring considerable value to organisations, employers, individuals and the economy.
"Businesses are now realising the enormous benefits that apprenticeships create, not only in terms of a highly skilled workforce but also by boosting productivity and staff retention."
Vauxhall says a total of 16 trainee apprentices will be taken on each year.
The students will join a four-year training programme which, on completion, will provide them with an NVQ level 3 qualification.
They will then have the opportunity to go on and complete an advanced apprenticeship and progress to degree level.