Hitchin Rhythms of the World festival 'will be best yet'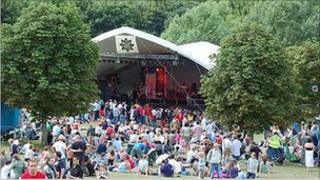 Organisers of a Hertfordshire music festival say this years event will be the "best yet".
An estimated 30,000 people are expected to attend Rhythms of the World at Hitchin Priory this weekend.
Now in its 20th year, the two-day event claims to be one of the largest celebrations of world music in the country.
"If you've never been before, now is the time to try it out," said organiser Cath Cole.
"Rhythms is all about the local community coming together to celebrate diverse, local and world cultures. With amazing acts from all over the world taking to the stages, this is definitely going to be the best festival yet."
'So lucky'
More than 140 bands, musicians and entertainers will be performing at this year's festival with acts from India, Cuba, Australia, Congo, China, Senegal, Singapore and Germany taking part.
Rising star of the modern Indian music scene, Raghu Dixit, will headline the main stage on Saturday night, with Ska Cubano heading the line-up on Sunday with a fusion of Cuban rhythms and ska beat.
The BBC Introducing… stage will once again be showcasing the best in local unsigned talent from the area.
"We are so lucky that Rhythms of the World invites us back each year to host one of the most exciting stages at the festival," said BBC Introducing… presenter Gareth Lloyd.
"The line-up this year is exceptionally strong with Blonde Louis headlining on Saturday and the fantastic Subways wrapping up what it sure to be a brilliant weekend of live music on Sunday."
Gates open at 1100 and close at 2100 BST on Saturday and on Sunday open at 1100 and close at 2000 BST.